Anthony Halog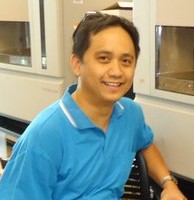 Assistant Professor  in Integrated and Life Cycle Sustainability Assessment
Quote: "Today's problems are caused by old thinking habits, and that it takes NEW THINKING or a SHIFT in Thinking to resolve them". (Albert Einstein)
237 Nutting Hall Orono, ME 04469-5755
(207) 581-2944
anthony.halog@maine.edu
http://ielcass.tripod.com/ilss
International Postgraduate Course in Environment and Sustainable Development, United Nations University, Tokyo, Japan, (2003)
Dr.rer.pol. (Engineering Systems and Sustainability Assessment ), University of Karlsruhe (TH), Germany (2002)
M.B.A  (Operations Management/Management Science), Monash University, Melbourne, Australia (1998)
Master of Engineering (Industrial & Systems Engineering). Asian Institute of Technology, Bangkok, Thailand (1993)
B.S.  (Chemical Process Engineering), University of Mindanao, Davao City, Philippines (1990)
Cooperating Assistant Professor/Graduate Faculty Affiliations
Professional Memberships and Associations:
Research Group for Industrial Ecology, LCA and Systems Sustainability
Forest Bioproducts Research Institute website
IELCASS Graduate Student Achievement and News
Graduate Research Assistantship in Industrial Ecology and Life Cycle Sustainability Assessment of Complex Adaptive Systems
Dr. Halog received his doctorate degree in Economic Sciences (with transdisciplinary research focus in Engineering Systems and Sustainability Economics) from the University of Karlsruhe, Germany (TH). He had participated in Advanced Postgraduate Training in Environment and Sustainable Development at the United Nations University (Japan) which covers diverse sustainability/transdisciplinary issues related to urban environment, water resources, natural resources, sustainable enteprise, environmental/climate change, environmental policy and technology at national, regional and global levels. He had been a Visiting Researcher at the National Research Council of Canada where he applied systems approaches (i.e. dynamic systems modeling & simulation) to develop complex systems model for sustainability assessment of novel and innovative technologies in the Canadian Oil Sands industry. He was also involved in reviewing and analyzing published studies in environmental life cycle assessment of bio-products. Before coming to North America, he had been a Visiting Research Fellow at the National Institute of Advanced Industrial Science and Technology (AIST) in Tsukuba, Japan with a research agenda of developing and applying quantitative and holistic thinking approaches to environmental life cycle analysis and sustainability assessment. He participated in Sustainability Evaluation in Transboundary Context Training in Estonia, which is sponsored by the European Union and Marie Curie Actions. His current research projects are focused on responding to the challenges of climate change and other relevant sustainable development issues. He has recently received the prestigious Organizational for Economic Cooperation and Development (OECD) Research Fellowship to conduct research in life cycle sustainability assessment of forest bioenergy chain at Finnish Forest Research Institute (METLA), Finland.