Scholarships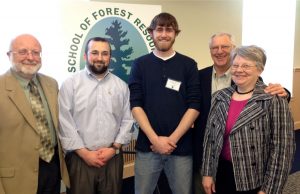 Each year, the School of Forest Resources awards hundreds of thousands of dollars in scholarships to new and continuing students. All students are eligible to apply, with different awards based on a number of criteria, including academic achievement and financial need. Awards usually range from $350 to $7,000.
All new students can submit an application 2017-18 SFR Scholarship Application starting January 1. You should also complete other financial aid information that will qualify you for other University and government awards.
Continuing students also must complete a short SFR Scholarship Application 2017-18. The completed form 2017-18 SFR Scholarship Applicationmust be submitted to the School of Forest Resources main office in 201 Nutting Hall by March 1st. You can also apply for NSFA scholarships by completing this online application and type written essay by February 27th, 2016 NSFA College Scholarship Application
Additionally, the Lee & Sunny Allen International Experience Travel Scholarship awards up to $1,500 for undergraduate and graduate students who will study abroad, attend winter term courses, participate in volunteer experiences, internships, workshops, conferences, or research projects abroad. Students must be enrolled in a School of Forest Resources program (FTY, FBB, PRT, or EES-Forest Ecosystems Option), or a graduate student with an SFR advisor. Please see full application here: Travel Fund Scholarship Application Guidelines 2017
Please Note: In order to qualify for awards that are granted to students with financial need, you will need to complete a FAFSA form to be eligible for financial aid.
Maine Pulp and Paper Scholarships
2013 Scholarships & Awards Ceremony
Frequently Asked Questions

Q. I am filling out the SFR scholarship application and it lists 'Completed SFR "Budget for College' worksheet. Does this include the $ALT worksheet as well? If so, I am having trouble filling out the table as it asks for monthly expenses of rent/mortgage, utilities, student loan bills(which are not relevant until after I graduate), credit cards bills, insurance bills, Dr. appointments, gym memberships, etc. Since not all of these things apply to me now, how should I go about completing the table?
A. Include your monthly educational expenses under "MISC". Total up your tuition, fees, books for the semester and divide by 4. If you are in a dormitory, divide the dorm fees by 4 and place under rent, and then divide your meal plan costs by 4 and place that under groceries.