Scholarships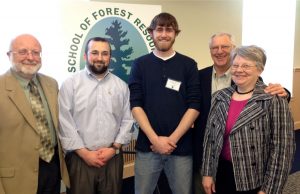 SFR Scholarships
Each year, the School of Forest Resources awards hundreds of thousands of dollars in scholarships to new and continuing students. All students are eligible to apply, with different awards based on a number of criteria, including academic achievement and financial need. Awards usually range from $350 to $7,000.
All new students can submit a scholarship application starting November 1. You have two options:
Download PDF file, SFR Scholarship Application, enter in the needed information and return the completed form to WilliamL@maine.edu.
Complete an application online at https://forms.gle/NV4Tu9oYYoHGY5Ny8.
In order to qualify for awards that are granted to students with financial need, you will need to complete a FAFSA form. However, financial need is not required for many other awards.
Continuing students also must complete a short SFR Scholarship Application by March 1st. The completed form must be submitted to the School of Forest Resources main office in 201 Nutting Hall by March 1st.
Additionally, the Lee & Sunny Allen International Experience Travel Scholarship awards up to $1,500 for undergraduate and graduate students who will study abroad, attend winter term courses, participate in volunteer experiences, internships, workshops, conferences, or research projects abroad. Students must be enrolled in a School of Forest Resources program (FTY, FBB, PRT, or EES-Forest Ecosystems Option), or a graduate student with an SFR advisor.
For more information about applying for a scholarship, go to:
Allen International Travel Scholarship Folder
To submit an application, go to:
Other Scholarships
Check out these other scholarship opportunities for more funding: