Brian Milakovsky (B.S. 2007)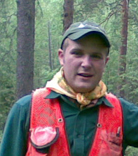 As a UMaine student, Milakovsky was interested in how important habitats can be protected in managed forests, and in particular how silvicultural systems can be modified to do so.
As a summer job, he identified stands of high habitat value for the Baskahegan Company in eastern Maine, and helped to develop a modified harvest system for these areas. After graduation, Milakovsky continued his studies at the Yale School of Forestry & Environmental Studies.
He expanded his focus beyond Maine to forests in northern Russia by researching barriers to the implementation of biodiversity conservation in a timber lease in Russian Karelia.
I learned a lot about the process of turning good policies into actual results in the field, and how often that process fails.
Now, thanks to the Fulbright Program, Milakovsky is headed to Ukraine to put his research to the test.
"I believe that the durable solutions to the loss of biodiversity will come from within the profession of forestry," says Milakovsky. "UMaine gave me the skills and perspective to work confidently as a forester on this very complex issue."