Tim Gallant (B.S. 2002)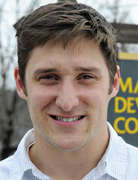 UMaine School of Forestry alum Tim Gallant is mapping a new course for himself and a local land development company. He recently was hired as the first Geographic Information Systems coordinator at Livermore Falls-based Main-Land Development Consultants, according to a recent report in the Sun Journal.
Gallant, a 28-year-old Rumford native, received his bachelor of science degree from UMaine in 2002. Prior to accepting the position at Main-Land, Gallant worked at Corner Post Land Surveying Inc. in Springvale as a survey project manager.
Main-Land Development Consultants has been providing land use planning services in western Maine since 1974.
As the company's first GIS coordinator, Gallant will create, analyze, organize and manage the GIS data collected for clients to prepare for presentations at local planning boards and state agencies, and for use by the Main-Land's team of engineers.
Gallant also will work with the firm's licensed surveyors to perform all aspects of land surveying, as well as wetlands delineation.