Plum Creek Provides $15,000 for the Forestry Summer Camp Safety Fund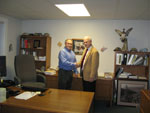 University of Maine forestry students will be safer in the forest thanks to a $15,000 gift from Plum Creek, the largest and most geographically diverse private landowner in the nation.
The Plum Creek Forestry Summer Camp Safety Fund, administered over three years, will provide safety equipment for 20 students who participate in the annual three-week training session which offers intensive, hands-on experience in forest management.
Heretofore, students were required to purchase their own helmets and eye, leg and boot protection at a cost of approximately $250. Now, thanks to Plum Creek's generous gift, forestry camp will be more affordable for these young people who learn to use chainsaws, logging equipment, road construction equipment and other tools in their quest to become forestry professionals.
"Plum Creek's contribution is much appreciated. With lots of students working together, strong attention to safety is vital," said Louis Morin, an instructor in the School of Forest Resources who directs the summer forestry camp, held both on campus and in Acadia National Park.
The gift also will go a long way in easing the financial burden for forestry students, Morin pointed out. "The forestry camp is one of the most expensive courses that forestry students have to take. Not only do students have to buy their own equipment and pay for room and board, they also lose three weeks of income that they would have earned through summer employment."
Based in Seattle, Plum Creek owns more than seven million acres in major timber producing regions of the United States, including 928,000 acres in Maine's Piscataquis, Somerset, Franklin and Penobscot counties.
"We wanted to support the University of Maine because it is a very valuable resource for the state and the forest products industry," said Mark Doty, community affairs manager for Plum Creek's Maine headquarters in Fairfield. The company also has field offices in Greenville, Bingham and the Jackman area.
"As a practically-oriented organization, we felt it was important to provide something that would be useful to students," said Doty, who graduated from UMaine in 1986 with a degree in forest engineering.
This isn't the first time that Plum Creek has given UMaine a boost.  "Plum Creek has been a tremendous supporter of the university through its active membership in the Cooperative Forestry Research Unit," said Professor Robert Wagner, director of the School of Forest Resources, referring to a group of forestland owners and managers that funds scientific research at UMaine to develop new information that will improve sustainable forest management practices in the state.
Noting that Plum Creek's priorities include protecting the environment and acting as a strong community partner, Doty said at least 18 UMaine graduates currently are employed with Plum Creek and are working in Maine. Several others work for Plum Creek in other states.
These talented young people "come ready to work with a great work ethic and a can-do attitude," he said.
"The forestry summer camp is a big part of preparing these students. That's why we wanted to support something practical like that. Academics are important, but on the ground training is too."