Mindy Crandall
---
Assistant Professor of Forest Landscape Management & Economics
243 Nutting Hall
University of Maine
Orono, ME 04469
Cooperating Assistant Professor, School of Economics
Cooperating Faculty, Margaret Chase Smith Policy Center
Faculty Advisor, Student SAF Club
Phone: 207.581.2855, Fax: 207.581.2875
mindy.crandall@maine.edu
PhD – Applied Economics, Minor in Forest Resources – Oregon State University (2014)
MS – Agricultural and Resource Economics – Oregon State University (2004)
BS – Forest Management – Oregon State University (1998)
AA – Native American Studies – Salish Kootenai College (1994)
---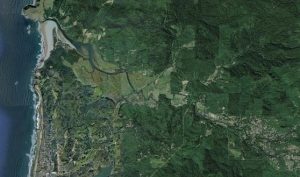 I grew up in a rural town wedged between private industrial forest, national forest, and the ocean. Despite these abundant natural resources, opportunities and outcomes remain limited for residents of that town. That context directly shaped – and continues to drive – my academic pursuits and research interests. Curiosity about why forests were managed the way they were – both on private and public land – led me to forestry school, and forestry led me to economics, as a key tool used in resource use decision-making.
My PhD is in applied economics with a forestry focus, and I'm most interested in the interplay between forest management, forest products markets, economic development, and community outcomes for those living in and around forestland. How can we optimize use and preservation of our natural resources in a sustainable way for both ecosystems and society? I've lived in rural communities in Oregon, Montana, Maine, and Germany, and in each place, there are common concerns and unique challenges. These place-specific factors are what make forest management decision-making and community outcomes so interesting to study.
For more details about my teaching and research activities, please explore the pages listed below.