NERCOFE
New England Regional Council on Forest Engineering
The Coun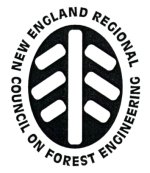 cil on Forest Engineering is an organization of international scope. It was established to promote the recognition of forest engineering and to enhance its practice. Founded in the late seventies, annual meetings have been held ever since throughout North America. Regional subdivisions of COFE were authorized in 1984. The New England Region Council on Forest Engineering (NERCOFE) has its origin on November 15, 1984.
The address of the parent, COFE, is: Council on Forest Engineering, c/o Ben Spong, PO Box 6125, Morgantown, WV 26506. Their web address is http://www.cofe.org.
2017 Nercofe registration form (fillable PDF)
Optional Workshops registration form (fillable PDF)
Presentations of past workshops (downloadable)
If you have questions, or would like to be included on the workshop mailing list, email Cindy Paschal at cpaschal@maine.edu
---

INTERNATIONAL COUNCIL ON FOREST ENGINEERING (COFE) ANNUAL CONFERENCE
BANGOR, MAINE,USA
JULY 30 – AUGUST 2, 2017
"Forest Engineering, from Where We've Been, to Where We're Going"
The Council on Forest Engineering (COFE), founded in 1978, is an international professional organization interested in matters relating to the field of forest engineering. The main objectives of the organization are to foster the development of forest engineering in industry, government, and in university teaching, research, and extension programs in order to promote the best methods of managing and operating forests, both private and public, and to disseminate technical information in forest engineering and related subjects.
This year's COFE Annual Meeting is being hosted by the University of Maine, School of Forest Resources, and the New England Regional Council on Forest Engineering. The theme of this 40th COFE Annual Meeting is "Forest Engineering, From Where We've Been, to Where We're Going."
Please see the 'Call for Papers' page for information about the technical presentation topics. See the 'Registration Page' to register for the conference, and the 'Hilton Garden Inn Bangor' link for hotel information and to reserve your stay.
For additional information please contact:
Raymond C. Berthiaume, COFE Co-Chair
Harvest Planning & Operations Manager
Wagner Forest Management, Ltd.
PO Box 121
Errol, NH 03579
rcberthiaume@wagnerforest.com
COFE 2017 Detailed Agenda 7-13-17
Wednesday, August 2nd Concurrent Sessions
To make hotel reservations with the Hilton Garden Inn Bangor, click here
Be sure to use the Group Code COFE to receive the special conference rate!!
******************************************
This year's COFE annual meeting is being sponsored in part with generous donations from:

Chadwick-BaRoss, Inc.
John Deere
Huber Resources
SAPPI North America
Seven Islands Land Co.
******************************************