Field Experience
Our network of faculty, alums, and others in the forest industry provides students with access to hundreds of internship and summer employment opportunities, but we also require that you get out there in the field and get a little dirty.
---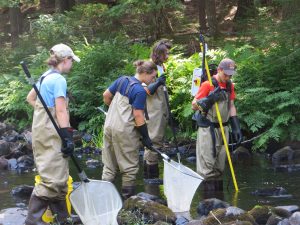 Tanglewood Fall Field Camp
Students in the School of Forest Resources (all majors) attend the Tanglewood Fall Field Camp (SFR 101). This experience is held each year toward the end of the summer at Tanglewood 4-H Camp and Learning Center near Lincolnville, Maine. The weeklong adventure at Tanglewood Camp allows you to interact with other students while getting to know some of the professors who will help you get where you want to go. No matter what career path you choose – forest manager, nature-based tourism guide, or forest bioproducts entrepreneur – you need to fully experience the forest to get you launched into a successful career in forest resources.
During your week in the woods, you'll:
Navigate the forest using a compass.
Discover the balance between forest recreation and sustainability.
Visit a wood harvesting operation.
Perform trail maintenance.
Tour a lumber mill for a look at today's no-waste mill operations.
At the end of the day, relax and find out what you have in common with other students while sitting around the campfire.
If you are a high school student, consider attending the Discover the Forest Camp
---
Summer Field Experience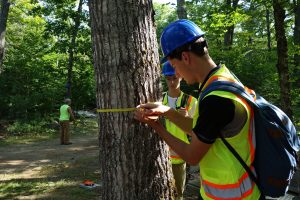 SFR 300 is an intensive three-week course that provides field experience in multiple forest resources disciplines and develops skills necessary for professional management of forest resources.  This 3 credit course is designed to reinforce, integrate, and evaluate skills in several areas including: forest inventory, forest operations, wood quality and recreation management. Students will also be introduced to concepts of forest resource management, silviculture, and forest certification.  Students will strengthen relationships with faculty and staff as they gain field experience, demonstrate professional skills, and prepare reports and presentations.
The course will be offered at several locations throughout a three week period from May 12th to May 29th.  Course activities are scheduled Monday to Friday each week.  All students will spend the first week and last week at Camp Roosevelt in Eddington.  Students will be assigned to cabins (~4 students per cabin) and meals will be provided in the main dining hall with a packed lunch for the field each day. During the second week all students will be at the Comstock Woodlands Camp in northern Maine working with Wagner Forest Management and Katahdin Forest Management.  Students will be housed in the logging camp with meals provided in the main dining hall with a packed lunch for the field each day.
Students from all three majors will attend the camp at the end of their sophomore year.
During forestry summer camp you'll:
Conduct a quality control assessment of an established inventory program to quantify forest stand structure and composition
Safely operate and maintain a chainsaw through instruction by Certified Logging Professional trainers.
Assess log quality based on visual defects
Estimate lumber volume from logs and visually grade lumber quality
Locate harvest boundaries, trails, landing, stream crossings and buffers on a proposed harvest block
Conduct a forest regeneration survey using fixed-area plots to measure seedling density and stocking
Identify local forest tree species and be familiar with their ecological characteristics, commercial uses, and associated vegetation and wildlife
Get to know your classmates and professors during outdoor activities
---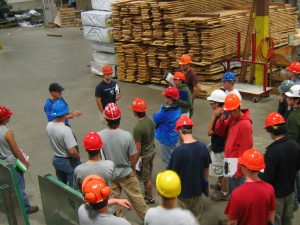 Forest Products Mill Tour
Students in Wood Science and Technology will visit a number of different wood products manufacturing facilities throughout Maine in a week-long trip held during the spring.
During your visits you'll:
Observe machinery, and technical practices of the forest products industry.
Observe material flow from wood yard through finished product.
Discuss business, marketing, technology, and environmental issues.
Gain an appreciation for the differences among industry segments.