Parks, Recreation and Tourism
About Our Program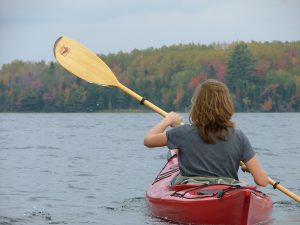 Recreation is one of the world's most diverse and fastest-growing industries. It is often intertwined within another worldwide growth industry, tourism.
The Parks, Recreation and Tourism (PRT) program is designed to provide students with training that will qualify them to work in a variety of work settings such as parks and protected natural areas, the public and private business sectors, non-profit environmental organizations, as well as state and federal natural resource agencies. The PRT program emphasis on the integration of natural, social, and management sciences reflects the inter-disciplinary context in which recreation, tourism, natural resource planning, and environmental concerns are addressed.
Students interested in the study of Parks, Recreation and Tourism will find the program ideally situated close to the rocky coasts, mountains, Acadia National Park, Baxter State Park, the Appalachian Trail and Maine tourism developments. Visits to these sites afford students unique and exciting opportunities both during class and leisure to observe and participate in on-going operations relevant to the profession. We frequently have guest lectures from the public sector and commercial recreational enterprises to acquaint students with the diversity of professional management issues and practices.
Our faculty, both full-time and cooperating, are unique in their extensive experience in the field as well as their national and international reputations. A wide array of academic experiences are available to students: summer camps, field experiences, studies abroad and assisting with recreation-related research enhance our students' education and employability.
Small class sizes ensure student/professor interaction and a more personal learning experience. A faculty advisor works closely with students to assist in choosing a program of study, provide career counseling, and provide a better understanding of the profession.
Students interested in summer intern and cooperative education opportunities can receive academic credit in addition to the valuable on-the-job training experiences. Numerous and diverse intern opportunities exist in the area allowing students to take classes simultaneously if they wish.
The faculty in Parks, Recreation and Tourism bring over 6 decades of experience in recreation resource management and research to the program. The location of the PRT program within the Department of Forest Management provides students with a solid grounding in natural resource management training.
The Parks, Recreation and Tourism curriculum is designed to develop proficiency in the profession while providing a broad general education. There are three areas of concentration:
The Nature Based Tourism Concentration emphasizes outdoor enjoyment of forest resources and strategies for developing a successful tourism program.
The Conservation Law Enforcement Concentration is for students who want careers as park and forest rangers.
The Parks and Recreation Management Concentration is for students seeking careers in park and outdoor recreation settings with an emphasis on forest resource management. This concentration is accredited by the Society of American Foresters.
Curricula requirements for the B.S. in Parks, Recreation, and Tourism at the University of Maine:
Parks and Recreation Management Concentration – Curriculum Requirements
Conservation Law Enforcement Concentration – Curriculum Requirements
Nature Based Tourism Concentration – Curriculum Requirements
Learning Objectives and Outcomes for PRT (March2013)
Program Outcomes for Assessment 
Specialization Within the PRT Program
In addition to the base curriculum students may elect courses for a minor in Public Relations, Business Administration, International Affairs, Natural Resources or Psychology and several other related fields.
Some courses offered in the Maine Bound program can be taken for credit such as rock climbing to sea kayaking as well as emergency care in remote settings to outdoor leadership involving delivery of outdoor programs. These courses can be included under the electives in the PRT program and gives hands-on experience on different outdoor activities.
Employment Opportunities
Recent summer employment of PRT students
Wilderness guides
Canoe guide for Maine High Adventure
Fire research at Acadia National Park
Digital mapping
Naturalist at Grand Teton National Park
Park Rangers at Baxter State Park and various other state parks, Sequoia National Forest, Green Mountain National Forest, Kalmiopsis Wilderness in Oregon, and Alaska
Employment of recent PRT graduates
Directors of Park and Recreation
Travel industry representatives
Recreation retailers (e.g. L.L. Bean)
Naturalists
Park rangers, park planners, and campground managers
Student Projects (and resumé builders)
Tourism plans for the greater Bangor area and the Calais region
Hospitality (pilot) training programs in conjunction with the Bangor Convention and Visitors Bureau
Interpretive walks in conjunction with Maine Audubon Society
Commercial recreation enterprise proposals
Park concept plans
For more information, please contact program leader…
John Daigle
John Daigle

Professor of Forest Recreation Management

207.581.2850