Student Chapter – Society of American Foresters
Our Mission: To provide a structure and organization that fosters a range of opportunities to advance academic achievement, expand experiences, as well as promote career and professional development for University of Maine students interested in forest resources.
Advisor: Anthony Guay
Chair: Mitch Dumas
Chair-elect:
Past Chair: Ashley Martone
Treasurer: Davis Asherman
Secretary: Adam Luchon
Social Media Chair: Autumn Brann
Member at Large (Graduate): Ryan Smith
Alumni Meet and Greet: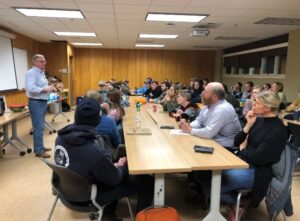 On Monday, November 18 of 2019, the University of Maine's student chapter of the Society of American Foresters (UMaine SAF) held a Meet and Greet event with 10 professionals in the forestry field. They introduced themselves to over 36 students, ate dinner with them, and described their jobs while giving them professional advice. We had professionals from Seven Islands Land Company, Maine Forest Service, American Forest Management Incorporated, as well as many other companies. We were also privileged to have SAF Nationals President, John McNulty, attend this event and give his testimony and advice to the students. Among the most common principles that were discussed were tree identification, communication/social skills, and the concept of working your way to the position that you want. Another noteworthy idea was to not be afraid to approach companies with what you want to do, as they may create a job opening for you. We were very honored to host this event and create a stronger connection between the students and the professionals that they look up to, while creating possible job opportunities and improved networking. To keep up to date with UMaine SAF, visit our webpage at: https://forest.umaine.edu/undergraduate-programs/student-clubs-and-activities/student-chapter-society-of-american-foresters/
Merchandise
UMaine SAF Hats – $15
UMaine SAF Stickers – $1
Christmas Ornaments
24 SFR Wooden Ornaments – $5 each
20 UMaine SAF Wooden Ornaments – $5 each
Alongside Xi Sigma Pi's Christmas Tree Sale (Front of Nutting)
Contact Austin Harmon (austin.harmon@maine.edu), Eli Carmer (elijah.carmer@maine.edu), or Trevor Jones (trevor.jones@maine.edu) to purchase!
Venmo – @UMAINE-SAF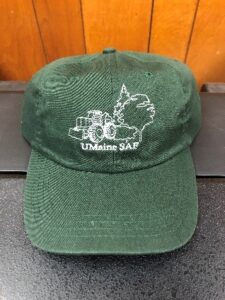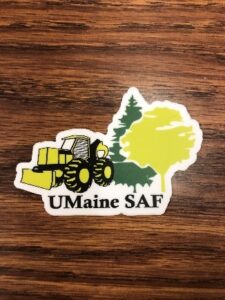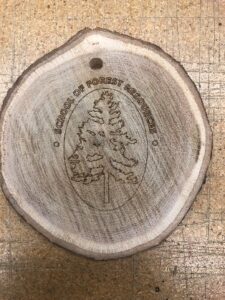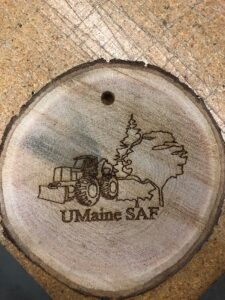 Donut Sales
In Nutting Hall lobby on Friday mornings, alongside Xi Sigma Pi's coffee sales.
$1 per donut