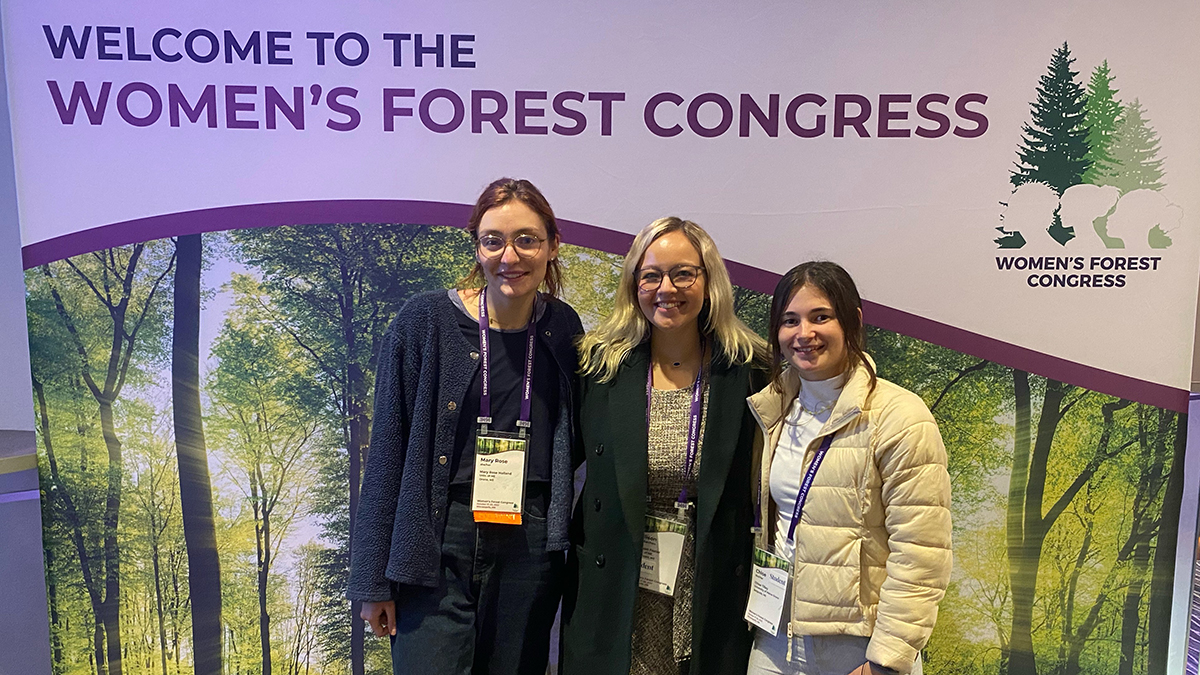 UMaine-led delegation of students, faculty attend Women's Forest Congress
A University of Maine-led delegation of students and faculty joined the eighth-ever Forest Congress in North America from Oct. 17-20 in Minneapolis, Minn.
Forest Congresses date to 1882, and are called when critical issues arise for forests and the people who steward them. Past meetings led to groundbreaking change, including the establishment of the U.S. Forest Service and the Civilian Conservation Corps.
This year's congress is the first in 48 years, with a female lens applied to all discussions. Despite advances in workplace equity, forestry continues to be a male–dominated field. Just 8% of Maine's licensed foresters are women. The Women's Forest Congress drew nearly 500 members of the forest community from across North America.
"I wholeheartedly believe a more inclusive profession is our best chance for healthy and sustainable forests now and in the future. The more people involved in the conversation, the more solutions we can find," says Nicole Rogers, UMaine assistant professor of silviculture.
Rogers co-led the university's delegation with Jessica Leahy, Henry W. Saunders Distinguished Professor in Forestry, Associate Dean of the College of Natural Sciences, Forestry, and Agriculture, and Associate Director of the Maine Agricultural and Forest Experiment Station.
Leahy also served on the Women's Forest Congress Advisory Council alongside eight other women who are prominent thought and industry leaders on North American forest landscapes.
"Serving on the advisory council has been so empowering. I'm on a board with other forestry leaders who are as committed to gender equity in the workplace as I am. I love sharing ideas on how to positively influence our respective organizations and professions, across the full spectrum of the forest sector," Leahy says.
A trailblazer herself, Leahy was the first woman to earn the status of full professor at the University of Maine's School of Forest Resources. Her experience inspired her to co-found SWIFT, formerly known Supporting Women in Forestry Today, to foster positive, solutions-focused support for women and non-binary people in forestry at UMaine. The model has since been featured in the Journal of Forestry and adopted by other universities.
"We still have work to do, but the fact that six of us attended the Women's Forest Congress from the University of Maine demonstrates our commitment. SWIFT focuses on positive strategies for success within the forestry classroom and workplace and the Women's Forest Congress is equally positive," Leahy says.
The congress focused on current and emerging forest stewardships challenges — like climate-change driven wildfires, pests and diseases. Dialogue was also dedicated to exploring how trees may help advance social equity in urban environments. Entwined through all discussions was the vision to nurture universal equity, inclusion and empowerment in the forest community.
"I believe the resolutions passed by the delegates at the Women's Forest Congress will be successful. One of the goals is to have 30% of the forest sector workforce be women and 25% of C-suite positions held by women by 2050," Leahy says.
Student members of the UMaine delegation included Chloe Tilley of Belgrade a B.S. student in forestry; Elisa Schine of Dover-Foxcroft, a master of forestry student; Allie Foster, a master's student in forest resources with a concentration in human dimensions; and Mary Rose Holland, a master's student in forest resources from Portland, Ore. The experience exposed them to how scientists and stakeholders formulate structural changes to shape forested landscapes and society as a whole.
"Having the space to come together and learn how we can best support each other and collaborate for mutual advancement changed my outlook on the future of this industry for the better," Holland says.
"When it comes to my career, I feel emboldened to forge ahead and use my voice, especially in those spaces where I may be surrounded by men."