Rural Youth Futures Project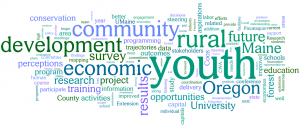 A project of the School of Forest Resources at the University of Maine, the Ecosystem Workforce Program at the University of Oregon, the Appalachian Mountain Club and the Coos Watershed Association, and University of Maine Cooperative Extension
Funded by the USDA National Institute for Food and Agriculture
The Rural Youth Futures project seeks to understand the goals and aspirations of middle and high-school youth in two traditionally forest-dependent communities: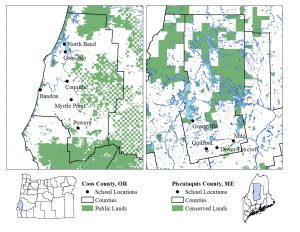 Piscataquis County, Maine and
Coos County, Oregon.
The project has three main components:
An anonymous survey delivered to as many middle- and high-schoolers as possible. The survey asks them their goals for the future and perceptions of their community and local labor markets and will be delivered in conjunction with schools
Rural Youth Listening Sessions, where we'll facilitate a discussion with local kids about the state of their community and engage them in helping articulate and plan future steps
The distribution of a capitals mapping tool that can be used for program evaluation by Extension agents and others involved in delivering youth training and education programs
We want to find out more about the connections between local communities, youth aspirations for the future, and the local economy. We hope this information will help communities better engage their next generation of workers and entrepreneurs as residents and leaders, develop more targeted education and training opportunities, and attract more early-career people to relocate or return to rural places!
The project will run from September 2017 through August 2020.
Connect with us!
Email: um.ruralyouth@maine.edu
Call or Text: 207-808-2140
Like us on Facebook: ruralyouthfuturesproject
---
Project Progress Reports
August to December 2017
January to June 2018
July to December 2018
Check back here for project updates, announcements, reports, and publications.
2018 Maine Promotional Video:
For more information, please contact:
Nicole Bernsen, M.A., Ph.D. Candidate, University of Maine nicole.gayer@maine.edu
Mindy Crandall, Ph.D., Assistant Professor, School of Forest Resources, University of Maine  mindy.crandall@maine.edu
Jessica Leahy, Ph.D., Professor, School of Forest Resources, University of Maine jessica.leahy@maine.edu
Jesse Abrams, Ph.D., Assistant Professor, Warnell School of Forestry and Natural Resources, University of Georgia
jesse.abrams@uga.edu
---
Return to Dr. Crandall's faculty page