Join Friends of SFR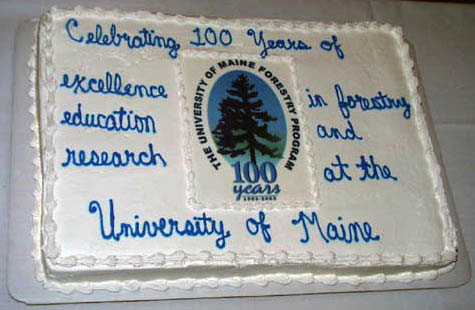 Click here to make a donation
The UMaine forestry program has the largest endowments for student scholarships in the University of Maine System. Last year, we provided $180,000 in student scholarships. This year, even with the substantial downturn in the stock market, SFR was still able to provide over $100,000 in student scholarships. Our alumni have generously given back over the years so that young people can follow them in their pursuit of forest resources careers. Despite this substantial endowment for scholarships – which totaled just over $15 million before the downturn – SFR has few endowments targeted to enhance the quality of our programs. For example, few funds are available to improve labs, update educational equipment, bring in international experts for seminars, develop educational travel opportunities, or provide seed funds for new programs. Steady declines in state and federal funding make the situation worse each year.
James Robbins, Sr., an alumnus and great supporter of SFR, saw the problem and came to our aid this year by starting the Friends of the School of Forest Resources to help raise endowments targeted to improve operations of the School. Jim recruited a dozen other alums and supporters to help with the campaign (see Board Members below). Their initial effort is focused on raising funds to match a very generous anonymous donor that offered to match 50% of all donations to SFR up to $200,000. Thus, if $200,000 can be raised from private donations, the donor will match it with another $100,000 for a total of $300,000. If you are interested in helping with this effort, please send your gift payable to the University of Maine Foundation, Attention: School of Forest Resources Operating Fund, Two Alumni Place, Orono, ME 04469-5792. If you have any questions, Jim Robbins can be reached at: jlrobbins@rlco.com.
The SFR faculty, staff, and students thank the Friends of the School of Forest Resources group for their wonderful leadership and support.
Board Members:
Jim Robbins, Sr. (Chair)
Robbins Lumber Co.
Chip Bessey
E.D. Bessey & Son
Jay Haynes
H.C. Haynes, Inc.
Hank McPherson
McPherson Timberlands
Roger Milliken, Jr.
Baskahegan Corporation
Russell Read
C Change Investments Management
Henry W. Saunders
Retired
Steve Schley
Seven Islands Land Company
Rick Smith
Forest Systems Services
Patrick Strauch
Maine Forest Products Council
Don Tardie
Maine Woods Company
Peter Triandafillou
Huber Resources Corporation