Parinaz Rahimzadeh-Bajgiran
Associate Professor of Remote Sensing of Natural Resources
215 Nutting Hall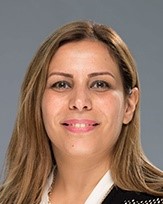 University of Maine
Orono, ME 04469-5755
email: parinaz.rahimzadeh@maine.edu
Ph.D. University of Tokyo (2011)
M.Sc. University of Tehran (2005)
B.Sc. University of Tehran (2001)
Parinaz Rahimzadeh received her Ph.D. in Biological and Environmental Information Engineering from the University of Tokyo, Japan, in March 2011. She was a postdoctoral research associate at the Dept. of Geography, University of Guelph in Canada for two years between 2011 and 2013 before joining the School of Forest Resources in 2014 as the Assistant Research Professor of Remote Sensing. Since September 2018 she has been working as a the Assistant Professor of Remote Sensing of Natural Resources at the School of Forest Resources, University of Maine.
Dr. Rahimzadeh has been actively involved in several projects employing remote sensing and geo-spatial analysis since 2004. Her research focus has been on forest health and productivity estimation, forest disturbance studies, drought and evapotranspiration measurement using optical and thermal infrared satellite sensors such as AVHRR, MODIS, Landsat and Sentinel-2. She has also completed research projects on plant photosynthesis performance at leaf level using active and passive chlorophyll fluorescence and spectrometer measurements.
Dr. Rahimzadeh currently has a number of active projects to address sustainable forest management issues such as spruce budworm defoliation detection and quantification and forest site productivity modeling in Northeastern forests of Canada and U.S. using Landsat-8 and Sentinel-2 imagery. She has also been working on various projects on multi-temporal remote sensing and geo-spatial analysis of landscape dynamics and it's consequences on people's livelihoods and ecosystem services nationally and internationally.
Research team (graduate students and post-docs)
Research