SWIFT

SWIFT
SWIFT is a group of women, non-binary people, and allies in the School of Forest Resources committed to advancing opportunities for women and gender minorities in the field of forestry. Our goal is to host practical, positive, solution-focused meetings that provide formal and informal support. Ultimately, we are fostering a community atmosphere that can serve to encourage and empower women and non-binary people in forestry to succeed.
---
Calendar for Fall Semester 2021
Chili Meet n' Greet: Thursday, September 16th from 5:00 PM – 7:00 PM
SWIFT members only: Chili and snacks will be served in the Nutting Hall Conference Room, and food will be eaten in the Nutting Hall Courtyard. Please wear masks while indoors, and BYOC (Bring Your Own Chair).
Kickball, Cider, and Donuts: Thursday, October 5th at 5:15 PM
SWIFT + Allies event: SWIFT and SAF will be co-hosting a kickball game at Lengyel – all who are interested are welcome to join! Cider and donuts (with gluten free options) will be served on site. Sign-up link here.
Mushroom Walk: (Rescheduled) Date TBD at 10:00 AM
 SWIFT members only: Space is limited to 15 participants, so sign up here if you are interested! Meet near the bike path near the tennis courts on campus, near the brick pillars.
Check here for more upcoming events!
We have regular SWIFT meetings, open to all women and non-binary people in the SFR – undergrads, graduate students, researchers, staff, and faculty – and SWIFT + Allies events open to everyone in the SFR to discuss relevant topics, hear from guest speakers, and provide a safe place to learn and grow. Our goal is to provide a mix of time to socialize and get to know each other, learn new concepts through seminars, offer brainstorming sessions that allow us to develop strategies, and time in the field to explore what we all love best – forestry!
---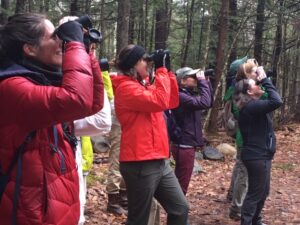 ABOUT SWIFT Information on SWIFT's values, history, organization, past events, and publications and presentations

SWIFT PLANNING TEAM Meet the members of the SWIFT Planning Team

RESOURCES Tips, links, and other useful information from past events