SWIFT

SWIFT

Supporting Women in Forestry Today
SWIFT is a group of women, non-binary people, and allies in the School of Forest Resources committed to advancing opportunities for women and gender minorities in the field of forestry. Our goal is to host practical, positive, solution-focused meetings that provide formal and informal support. Ultimately, we are fostering a community atmosphere that can serve to encourage and empower women and non-binary people in forestry to succeed.
---
Calendar
Spring Semester 2021
Check here soon for upcoming events!
Fall Semester 2020
SWIFT Undergraduate Student Meet & Greet – Friday, Sept 25 at 10:00 am on Zoom
All undergrad SWIFTers are welcome to join this informal event! Come meet new classmates, connect with old classmate, and learn more about SWIFT!
SWIFT Bonfire – Friday, Oct 2 at 7:00 pm between Nutting & Libby Halls
UPDATE – This event will be held Friday, Oct 2 at 5:00 pm, at the green behind the library
An all-SWIFT, socially-distanced social gathering!
Chainsaw Practice and Information Session – Saturday, Oct 31 from 9:00 am to 12:00 pm, outside Perkins Hall
A favorite SWIFT tradition! An all-SWIFT event for those who would like hands-on instruction and practice using a chainsaw in a supportive, safety-focused environment. No experience required.
Being Safe in the Woods – Thursday, Nov 19 at 12:30 pm on Zoom
An all-SWIFT event where we'll discuss gender-specific safety issues relevant to working in the field.
Being an Ally in the Woods – Date in Dec TBD on Zoom
A SWIFT + Allies event open to everyone in SFR! We will follow up on our Being Safe in the Woods event with a discussion about how allies can respond to gender-specific workplace safety issues.
We have regular SWIFT meetings, open to all women and non-binary people in the SFR – undergrads, graduate students, researchers, staff, and faculty – and SWIFT + Allies events open to everyone in the SFR to discuss relevant topics, hear from guest speakers, and provide a safe place to learn and grow. Our goal is to provide a mix of time to socialize and get to know each other, learn new concepts through seminars, offer brainstorming sessions that allow us to develop strategies, and time in the field to explore what we all love best – forestry!
---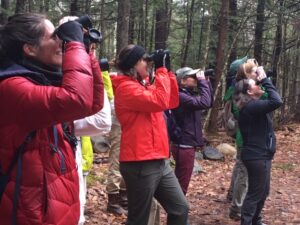 ABOUT SWIFT Information on SWIFT's values, history, organization, past events, and publications and presentations

SWIFT PLANNING TEAM Meet the members of the SWIFT Planning Team

RESOURCES Tips, links, and other useful information from past events