SWIFT

SWIFT: Supporting Women in Forestry Today
SWIFT is a group of women and allies in the School of Forest Resources committed to advancing opportunities for women in the field of forestry. Our goal is to provide practical, positive, solutions-focused meetings that provide formal and informal support. Ultimately we are fostering a community atmosphere that can serve to encourage and empower women in forestry to succeed.
---
SWIFT Calendar 2019:

Fall Semester 2019
Thurs Sept 26 – SWIFT Annual Chili Social. 5:30 pm, Nutting 204. Come eat Chili and meet the women of SFR! Swap tales and seek inspiration from our special guest alumni. This is a casual event, we hope you'll stop by! Open to all who identify as women, inclusive of people who are non-binary.
Friday Oct 25 – SWIFT + Allies 50 Ways to Fight Bias. 12 – 1 pm, Nutting 204. Come eat pizza and learn techniques for fighting bias. Participation counts towards the professionalism certificate. Open to all SFR.
Sunday Nov 10 – SWIFT Chainsaw Practice! 9:30 am on the University forest. No equipment or prior experience needed. Come make cookies with us – wood cookies, that is! Practice starting and operating a chainsaw in a supportive environment. If chainsaws aren't enough to get your attention, donuts and lunch are provided. Open to all who identify as women, inclusive of people who are non-binary. Attendance is capped, register here.
We have regular meetings, either open to all women or everyone in the SFR – undergrads, graduate students, researchers, staff, and faculty – to discuss relevant topics, to hear from guest speakers, and to provide a safe place to learn and grow. Our goal is to provide a mix of time to socialize and get to know each other, learn new concepts through seminars, offer brainstorming sessions that allow us to develop strategies, and time in the field to explore what we all love best – forestry!
---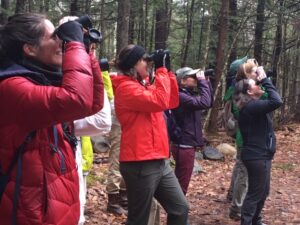 SWIFT NEWS Publications, presentations, and accomplishments

RESOURCES Tips, links, and other useful information from past events

ABOUT SWIFT Information on SWIFT's values, organization, and current Planning Team