SWIFT

SWIFT
SWIFT is a group of women, non-binary people, and allies in the School of Forest Resources and the Department of Wildlife, Fisheries, and Conservation Biology committed to advancing opportunities for women and gender minorities in the field of forestry. Our goal is to host practical, positive, solution-focused meetings that provide formal and informal support. Ultimately, we are fostering a community atmosphere that can serve to encourage and empower women and gender minorities in forestry and wildlife to succeed.
---
Calendar for Spring Semester 2023
Maine Week Invasive Plant Species Removal: Friday April 28 from 9:00 am to 12:00 pm
Event Flyer
SWIFT + Allies event. Come volunteer with SWIFT and the Orono Land Trust to remove invasive plants from the Piney Knoll Conservation Area in Orono. Be prepared to get dirty, and dress for safety–long sleeves and pants, high socks, and gardening gloves are strongly recommended!
Meet us at the Piney Knoll parking area at the end of Colburn Drive in Orono, or let us know via the sign-up sheet if you would like to carpool from Nutting Hall.
Snacks and drinks generously provided to volunteers by the Orono Land Trust.
Sign-up sheet here.
Check here for more upcoming events!
Past Spring 2023 Events:
Snowshoe Tree ID Walk: SWIFT + Allies event, Saturday Feb. 11
Exploring Unintentional Bias with guest Emily Santamaria (USFWS): SWIFT + Allies Event, Thursday March 2
* Contact a SWIFT planning team representative if you would like a recording of this event.
Annual Chainsaw Training: SWIFT + Allies event, Saturday April 8
We have regular SWIFT meetings, open to all women and gender minorities in the SFR and WFCB – undergrads, graduate students, researchers, staff, and faculty – and SWIFT + Allies events open to everyone in the SFR and WFCB to discuss relevant topics, hear from guest speakers, and provide a safe place to learn and grow. Our goal is to provide a mix of time to socialize and get to know each other, learn new concepts through seminars, offer brainstorming sessions that allow us to develop strategies, and time in the field to explore what we all love best – forestry!
Check out the UMaine SFR/SAF Instagram page for SWIFT event updates and photos!
---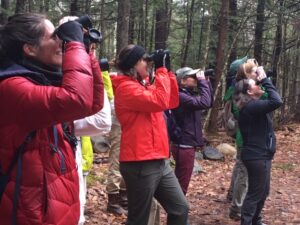 ABOUT SWIFT Information on SWIFT's values, history, organization, past events, and publications and presentations

SWIFT PLANNING TEAM Meet the members of the SWIFT Planning Team

RESOURCES Tips, links, and other useful information from past events