SWIFT
SWIFT: Supporting Women in Forestry Today
SWIFT is a group of women and allies in the School of Forest Resources committed to advancing opportunities for women in the field of forestry. Our goal is to provide practical, positive, solutions-focused meetings that provide formal and informal support. Ultimately we are fostering a community atmosphere that can serve to encourage and empower women in forestry to succeed.
---
SWIFT Calendar 2018-2019:

Fall Semester 2018
Thurs Sept 20 – Meet & Greet for all women in forestry. 5:30-6:30pm, Nutting 106. Chili provided! Come meet new people and say hello to old friends!
Saturday Nov 3
– CHAINSAW PRACTICE! On the University forest. No equipment or prior experience needed. Come make cookies with us – wood cookies, that is! Practice starting and operating a chainsaw in a supportive environment. Lunch is provided, attendance is capped. Sign up on
this google form
. Questions? Contact Maren Granstrom!
Wednesday Nov 7 – How to be an ally workshop. 12 noon – 1pm, Nutting 257. Open to everyone in SFR. Learn about SWIFT and how you can be a partner with us to create a more inclusive environment in forestry. Participation fills a requirement for the professionalism certificate.
We have regular meetings, either open to all women or everyone in the SFR – undergrads, graduate students, researchers, staff, and faculty – to discuss relevant topics, to hear from guest speakers, and to provide a safe place to learn and grow. Our goal is to provide a mix of time to socialize and get to know each other, learn new concepts through seminars, offer brainstorming sessions that allow us to develop strategies, and time in the field to explore what we all love best – forestry!
---
Resources from How to be an Ally workshop held on 11/7/2018:
Recommendations for how to be an ally:
Recognize bias
Be proactive
Provide support from below (i.e., authority figures are not the only ones who can make a difference)
Use questions to guide potentially confrontational conversations (e.g., "What did you mean when you said… ?" "Have you noticed that…?")
Call out bias or sexism when you see it, and don't allow it
Use strategies to "trick" bias
Listen to women
Ask what you can do to be supportive
Amplify opinions and suggestions made by women if it doesn't seem like they are getting the attention and recognition they deserve
Provide opportunities for women to build confidence (e.g., chainsaw safety training)
Encourage women to pursue opportunities and follow up with them
---
Planning Team 2018-2019:
Mindy Crandall, faculty/staff rep
Jenna Zukswert, faculty/staff rep
Maren Granstrom, graduate rep
Maggie Mansfield, graduate rep
Emily Roth, undergraduate rep
Maddie Eberly, undergraduate rep
Our planning team is composed of 6 rotating volunteers: 2 faculty/staff, 2 graduate students, and 2 undergraduate students. If you'd like to be involved, share ideas for future topics or meetings, or suggest ways we can improve, please contact a planning team member.
---
SWIFT News
Karin Bothwell and Erin Schlager received 2nd Place in oral presentations for their talk, "Supporting Women in Forestry Today: Small-Scale Discussions with Large-Scale Implications" at the SAF National Convention in Madison, Wisconsin, November 2016
SWIFT was highlighted in a front-page article by Andrea Watts, January 2017 issue of The Forestry Source, the monthly newsletter of SAF
---
The history of SWIFT
In 2015, a group of faculty and graduate students in the School of Forest Resources formed SWIFT: Supporting Women in Forestry Today, as one way to address the challenges we might face as women in forestry. The original planning team consisted of faculty members Jessica Leahy, Laura Kenefic, and Mindy Crandall, and graduate students Kara Costanza, Karin Bothwell, and Erin Schlager.
---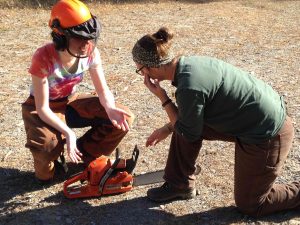 Previous SWIFT meeting topics
Challenges facing women in forestry: a discussion with USFS scientist Christel Kern
Chainsaw practice session
Understanding the experiences of women in forestry (open to all SFR)
The "Confidence Gap"
Dealing with Imposter Syndrome
Addressing discrimination
Strategies for entering the labor force
How to be an Advocate/Ally (open to all SFR)
Role playing difficult situations
Presentations from the Diversity and Inclusion Track at SAF National (open to all SFR)
Career advice with field foresters
Finding your communication style
Penobscot Experimental Forest Field Tour
---