ABOUT SWIFT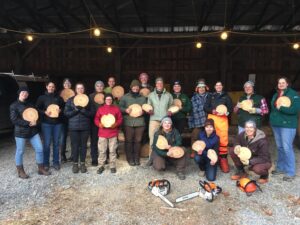 CONTENTS
MISSION
The mission of SWIFT is to support and encourage women and non-binary people in the School of Forest Resources (SFR) in their forestry education and careers. We aim to provide mentoring and support to better retain women and non-binary people in forestry at all educational levels and ensure successful transitions to the workplace.
We use the following evidence-based approaches as means to achieving this:
educating our community about terms, concepts, and current research on gender discrimination;
developing strategies for success in a field dominated by men;
improving networking for women and non-binary people; and
providing education, discussion, and opportunities for and about allies.
These approaches are intended to help overcome existing barriers (1 and 2) and build a more accepting community and climate across SFR (3 and 4).
THE HISTORY of SWIFT
In 2015, a group of faculty and graduate students in the School of Forest Resources formed SWIFT: Supporting Women in Forestry Today, as one way to address the challenges we might face as women and gender minorities in forestry. The original planning team consisted of faculty members Jessica Leahy, Laura Kenefic, and Mindy Crandall, and graduate students Kara Costanza, Karin Bothwell, and Erin Schlager.
CORE VALUES
Gender bias and discrimination are realities in our field
Current research and literature are essential in understanding bias
Women and non-binary people have agency and voice in dealing with bias and discrimination
Woman- and non-binary-only events are necessary to foster safe and open communication
ORGANIZATION
There is no formal membership in SWIFT. SWIFT consists of a series of events (roughly 3-4 per semester) that further our mission. The current Planning Team plans and implements these events, which are open to all women and non-binary people in SFR, or the entire SFR community (SWIFT+Allies events).
---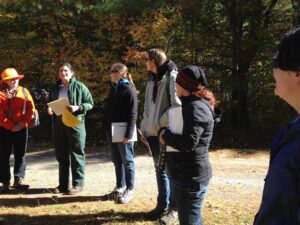 PRESENTATIONS and PUBLICATIONS
SOCIETY OF AMERICAN FORESTERS PRESENTATION ON SWIFT
Dr. Mindy Crandall, former Planning Team member, presented on SWIFT at the 2020 Society of American Foresters Annual Meeting. This presentation, "Building and Retaining Gender Diversity in University Forestry Programs: A Case Study of SWIFT" by Mindy S Crandall, Kara K L Costanza, Jenna M Zukswert, Laura S Kenefic, and Jessica E Leahy, can be found in the SAF Journal of Forestry.
PEER REVIEWED JOURNAL ARTICLE ABOUT SWIFT PUBLISHED
The Journal of Forestry has published an article about SWIFT written by current and former Planning Team members. This article describes the motivation behind SWIFT, the adaptive management approach to operating SWIFT, the goals of SWIFT, and the outcomes as assessed in two participant surveys. SWIFT guidelines and example activities are presented as a model for others who want to organize a similar effort at their own institution. This article, "An Adaptive and Evidence-Based Approach to Building and Retaining Gender Diversity within a University Forestry Education Program: A Case Study of SWIFT" by Mindy S Crandall, Kara K L Costanza, Jenna M Zukswert, Laura S Kenefic, and Jessica E Leahy, will also be made available online at the U.S. Forest Service's Treesearch website.
FORESTRY SOURCE ARTICLE ABOUT SWIFT PUBLISHED
SWIFT was highlighted in a front-page article by Andrea Watts, January 2017 issue of The Forestry Source, the monthly newsletter of the Society of American Foresters (SAF)
STUDENTS PLACE SECOND IN PRESENTATION ON SWIFT
Karin Bothwell and Erin Schlager received 2nd Place in oral presentations for their talk, "Supporting Women in Forestry Today: Small-Scale Discussions with Large-Scale Implications" at the SAF National Convention in Madison, Wisconsin, November 2016.
---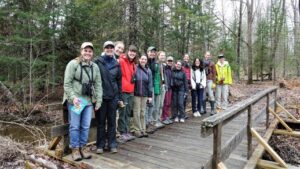 PREVIOUS SWIFT EVENTS AND DISCUSSION TOPICS
Annual chili social/potluck (2016 – 2022)
Annual chainsaw practice session (2017 – 2023)
2022-2023 Events
SWIFT Planning and Welcome Potluck (Dec 2022)
Forestry Fun: Winter tree and shrub ID snowshoe walk (Feb 2023)
Topic – Exploring Unintentional Bias with Emily Santamaria of US Fish & Wildlife Service (March 2023)
* Please feel free to contact a SWIFT planning team representative if you would like a recording of this webinar event.
Past Events
Forestry fun and field experiences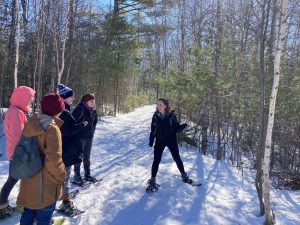 Mushroom hike with Dr. Seanna Annis (Fall 2021)
Forestry fun: Western tree identification
Forestry fun: Winter tree and shrub identification
Bird hike with Dr. Amber Roth (2019)
Penobscot Experimental Forest Field Tour with Dr. Laura Kenefic
Discussion/Seminar Topics
Topic – Being safe in the woods
Dispatches from the field: experiences as a woman in forestry with Dr. Nicole Rogers (open to all SFR)
Topic – Navigating difficult situations
Topic – 50 ways to fight bias (open to all SFR)
Topic – Leaning in to the job market
Challenges facing women in forestry: a discussion with USFS scientist Christel Kern
Topic – Speaking up: why we do it when we do and why we sometimes don't
Topic – Understanding the experiences of women in forestry (open to all SFR)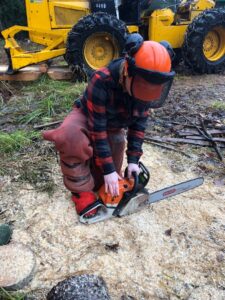 Topic – The "Confidence Gap"
Topic – Dealing with Imposter Syndrome
Topic – Addressing Discrimination
Topic – Strategies for entering the labor force
Topic – How to be an Advocate/Ally (open to all SFR)
Diversity in natural resource professions: A seminar by Dr. Brook Penaluna
Topic – Finding your communication style
Role playing difficult situations
Presentations from the Diversity and Inclusion Track
at SAF National (open to all SFR)
Career advice with field foresters